Retirement Workshop with CPF as the Foundation
Online Course IBF Course Code: TGS-2022601539 / Course fee: $800
Classroom Course IBF Course Code: TGS-2022601755 / Course fee: $1,000

IBF-FTS Subsidy
Singaporeans age 40 years old and above: 90% co-funding
All other Singaporeans and PRs: 50%
Details of IBF-FTS: https://www.ibf.org.sg/programmes/Pages/IBF-FTS.aspx

A proven Workshop that has helped many Financial Consultants to break successfully into the Retirement Planning Market
We're Here To Help You Succeed in your Retirement Planning Service
This workshop is specially designed for Financial Consultants aiming to penetrate Singapore's retirement market. You will get to understand and appreciate CPF - the Basic Retirement Plan of Singaporeans. You will also get to access a one-of-a-kind projection tool that will enable you to factor client's CPF as part of the Retirement Funding.
The course fee is only $800 ($1,000 if Classroom Delivery) and you will get to attend:
Online Course: 4 x 3.5 hours session
Classroom Course: 2 x 7 hours session
COMPLIMENTARY
All graduates of the Workshop are welcome to attend the Meet Albert Session where their Retirement Planning Skills will be sharpened further.
Classroom Course: Session 1 to 4 will be condensed into two sessions of 7 hours each
________________________________________________
Session One
Topic: Understanding Retirement Planning in Singapore
What is retirement planning and why is it important?
When should one start his/her retirement planning?
Important questions in personal retirement planning.
Topic: Understanding CPF - Your Basic Retirement Plan
Acquire a general understanding of CPF as the Basic Retirement Plan for most Singaporeans.
Session Two
Topic: Understanding CPF - Your Basic Retirement Plan (Cont...)
CPF Life Scheme - Which option is more suitable?
Topic: Mastering the 5 Stages of Retirement Planning
Practical hands-on session on how to use the Retirement Cashflow Spreadsheet to service and acquire new clients with actual case studies
Note: All the Five Steps come with scripts for effective delivery
Session Three
Topic: Case Study on Real-Life Cases
A practical hands-on session to master the use of the Retirement Cash Flow Projection Spreadsheet via real case studies.
Use of CPF Life Estimator
Extraction of CPF Annual Statement
Do a full case study with the recommended solution
Session Four
Topic: Field Experience on Assigned Retirement Planning Project
Main objective is to ensure mastery of the Retirement Planning Skill
To work on cases that Financial Consultants have opened.
To answer field questions encountered by Financial Consultants
Ready to find out more? Get started today!
Acquiring additional skills is never too much.  You never know when you need it.
Our Reviews and Testimonials
________________________________________________
Since 2016, more than 2,000 Financial Consultants have attended our Retirement Workshop with CPF as the Basic Foundation course.
This Workshop has equipped many FCs with a unique set of Retirement Planning Skills and Planning Tools that enabled them to expand their service into the Retirement Planning Market successfully and added volume to their production.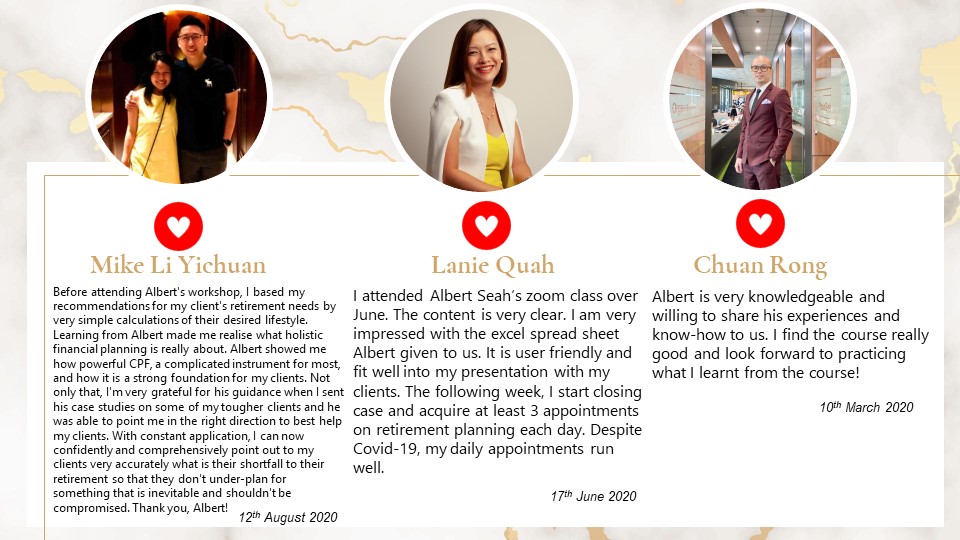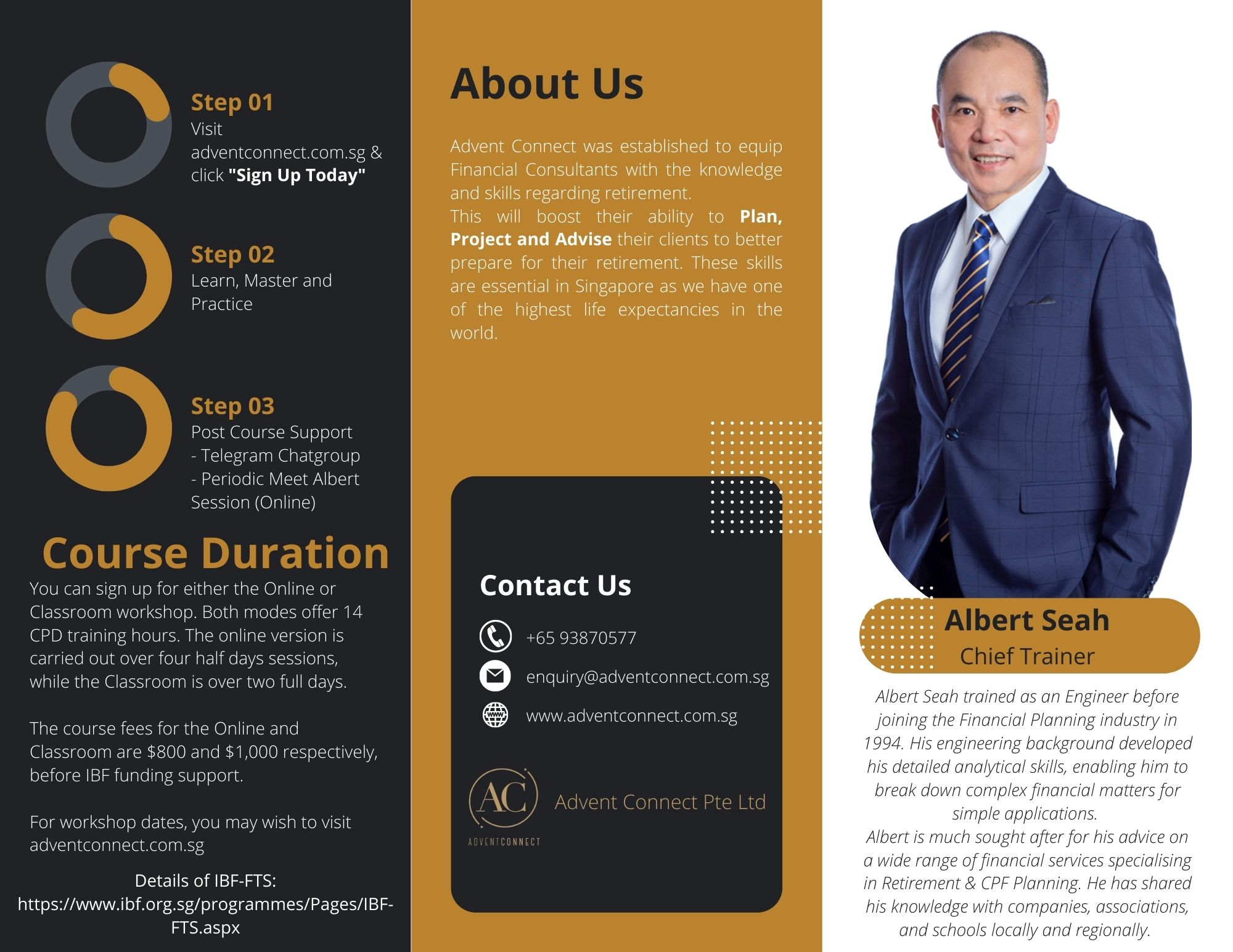 Ready to find out more? Get started today!